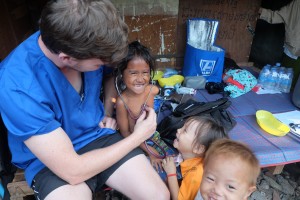 In 2015 we were running a primary health care clinic in Borei Keila urban slums. While I was sorting equipment on a wooden platform a little hand came up. As I placed the equipment down. It  was picked up and examined by a girl with a smiling wizened face.  I could see that she was malnourished and we asked our translator to find her mother. We treated her and arranged a feeding program for her and 10 other children for the next three months supplementing them with daily iron, vitamins and minerals. SSS also paid for her admission to the national Paediatric Hospital for investigations and treatment of a congenital condition.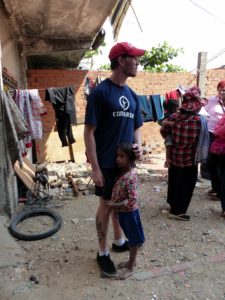 Because her mother was too poor to send Soksopea to school,  we introduced her to the Salesian Sisters at Don Bosco School.  Soksopea has been attending boarding primary school and is thriving. She has also received medical and dental treatment paid for by our sponsors who also provide her clothing and pay her school fees.
Children have many barriers standing between them and the opportunity for education. Poverty is a major obstacle along with lack of Government spending on the education system.
Children in Cambodia who have no opportunity for education are doomed to repeat the same cycle of poverty that their parents endure. Uneducated children grow into uneducated adults with very limited choices and are drawn into abhorrent life styles to survive. One of the greatest gift any child can receive is education to extend their horizons and choices in life.  We are always seeking donors to support our Charity from as little as a commitment of ten american dollars monthly.