The months spent at Prey Kebas this year have been very productive and we have forged an ongoing partnership and understanding with hospital medical and nursing staff and we look forward to a rewarding new year.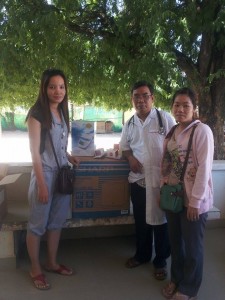 During 2014 we purchased a refrigerator for the storage of medical drugs in the Maternity area. This was made possible through the generous donation made by Sunrise Rotary Club, Swan Hill, Victoria.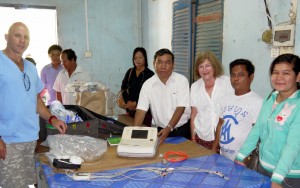 We also donated an ECG Cardio Graph machine, nebulsier, stethoscopes, pulse oxometers,  surgical instruments for minor surgery, dressing materials, and medical drugs.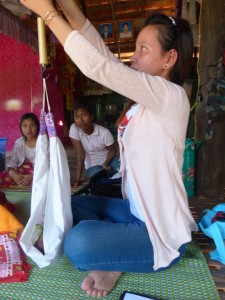 We traveled to rural villages where we conducted primary health care clinics, post natal visits, education and networking with village elders and chiefs. Our team included Cambodian registered nurse Ramya Moang and interpreter Mr Chey Keo.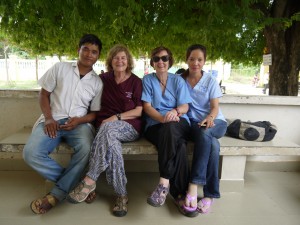 SSSP members also worked alongside medical officers at  Prey Kebas and also midwifery and nursing staff. We have forged a productive working relationship with the hospital staff and enjoyed a farewell dinner with them prior to our departure in November.
Hand Washing Facilities.
This newly donated building had a limited external fit out. SSSP installed  4 new hand washing sinks with the money donated by Trinity Anglican School, Cairns, Australia.  This may seem a small project but the difference that hand washing facilities makes enables staff to practice infection control measures and lesson the risk of cross infection to patients.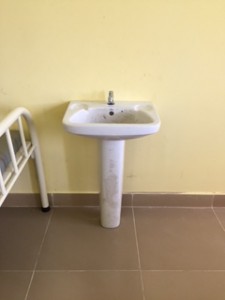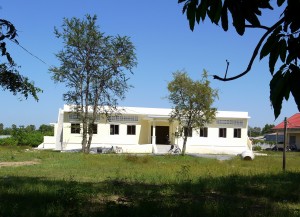 Baby Chung
This tiny baby was born at Prey Kebas referral Hospital 13 weeks prematurely. Despite her age she struggled to survive at birth with little or no intervention. The Mother was reluctant  to go to Phnom Penh because she had insufficient money to pay for baby Intensive Care and so she returned home to her Village within 24 hours of the birth. Baby Chung has struggled constantly to survive. We have made the provision of a Cot suitable for transport of premature babies a project for SSSP in 2015.